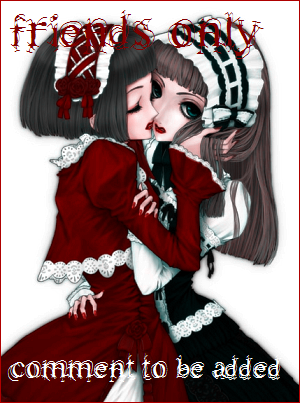 I normally only add people I know either in real-life or online. If I have never talked to you or seen you around there's a good chance I won't even give you a chance.

Don't take it personal because it really isn't. I'm a secretive person at heart. :3

>>>Please don't ask me to friend you if you have no intention of adding me. :c

>>>I DON'T add anyone I've never made a connection with on some level.

>>>Please, please comment here before adding me unless I know you for sure. ALL my journal entries are friends only or filtered so you won't even see anything.

>>>I do have adult themes in my journal. Not particularly overly vulgar, but so much that I don't feel comfortable adding anyone underage. Please don't take offense if I don't add you because of this!

Thanks~!